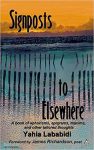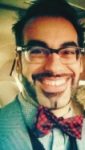 Caroline welcomes the return of Egyptian-American poet, aphorism Genie, Yahia Lababidi,
on this Maundy Thursday, that the Mythic News may weave the secular-muggle news into liberating divination…
Yahia Lababidi is an Egyptian-American thinker, poet and author of 7 books in 4 genres. Lababidi's forthcoming book, "Where Epics Fail", was featured on PBS NewsHour and is generously endorsed by Obama's inaugural poet, Richard Blanco.
"Do you know what an aphorism is? It's not exactly a Haiku, a proverb, an axiom, nor a poem, yet it harnesses the power of all these. Aphorisms are an ancient form, but its current-day master is Yahia Lababidi.
Previous appearances on The Visionary Activist Show:
Support The Visionary Activist Show on Patreon 
for weekly Chart & Themes ($4/month), and more…