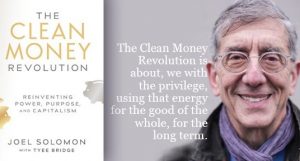 Caroline welcomes fellow public dreamer, Joel Solomon, author of "The Clean Money Revolution,"
that money may be liberated – dedicated to collective well-being – and that "We can all do better with our relationship to money."
Let all good-hearted people release disdain for wealth, and be willing to direct its swoosh in the desirable direction, to irrigating our Best Dreams… transforming dread into dedication. Joel has a 50 year strategy and a 500 year vision. www.RenewalPartners.com
Joel Solomon is President of Renewal Partners and Chairman of Renewal Funds. Joel serves as a Senior Advisor with RSF Social Finance and speaks frequently throughout North America, including a 2012 TEDxVancouver talk.  He is a founding member of Social Venture Network (SVN), Business for Social Responsibility (BSR), the Tides Canada Foundation, and is board chair of Hollyhock. Joel has received a Lifetime Achievement Award from SVN and was recently inducted with Carol Newell into the SVN Hall of Fame.
And join The Visionary Activist Show on Patreon
to find today's Chart & Astro*Mytho guiding themes. 
Which this week begins…
"A plethora of possibilities is being generously proffered to us for our jovial customized animation by the Atmospheric Choreography of Now:

All around now (and in perpetuity, by sticking all in our magic back-packs)
and specifically:

Saturday  December 2nd: Jupiter trines Neptune 9:22 pm
"The protoplasm of reality is especially receptive to Imaginative Imprint ." All old stories, myths, fairy folk tales are available for fresh animation…Eager to be invited to bound from back-stage onto the word stage.

Windfalls of Wherewithal are available to be directed by swooshing… into containers of dedicated desire, that we may be better able to "Dree our Weird" ("Play our role in destiny")."
… Continue reading by supporting the show on Patreon for $4/month *Woof*Woof*Wanna*Play?!?*