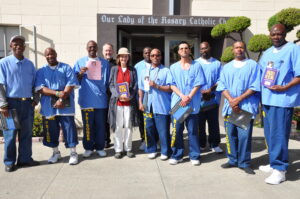 Caroline is delighted to welcome the return of Susan Shannon, as we honor the radiant resilience of the "former lifer" community, those "Returning Citizens" who have completed their sentence, and are now part of the team of Mentors, having much earned medicine to contribute – to us all… Inner work allows for synchronicity. Power of changing the narrative. Redemption. The rituals of healing betwixt those who have harmed, and those whom they have harmed. Milarepa, thug, highwayman and others who go on to be great Saints… Diving into the Dark to glean "Power with" vs. "power over."
Susan Shannon is a seeker, student, mystic, poet, dharma lover, student,  and teacher, earth and animal steward, and devotee of the heart, interfaith minister and chaplain…. Susan has been a student and practitioner of Tibetan Buddhism for over 45 years, studying with many of Tibet's greatest teachers here in the United States and abroad.
Since ordination, Susan's ministry has been focused on prison chaplaincy projects and transformational programs at San Quentin State Prison, including working with the renowned Guiding Rage Into Power program through
Insight-Out.org
and providing Buddhist Chaplaincy on Death Row.

Support The Visionary Activist Show on Patreon for weekly Chart & Themes ($4/month) and more…