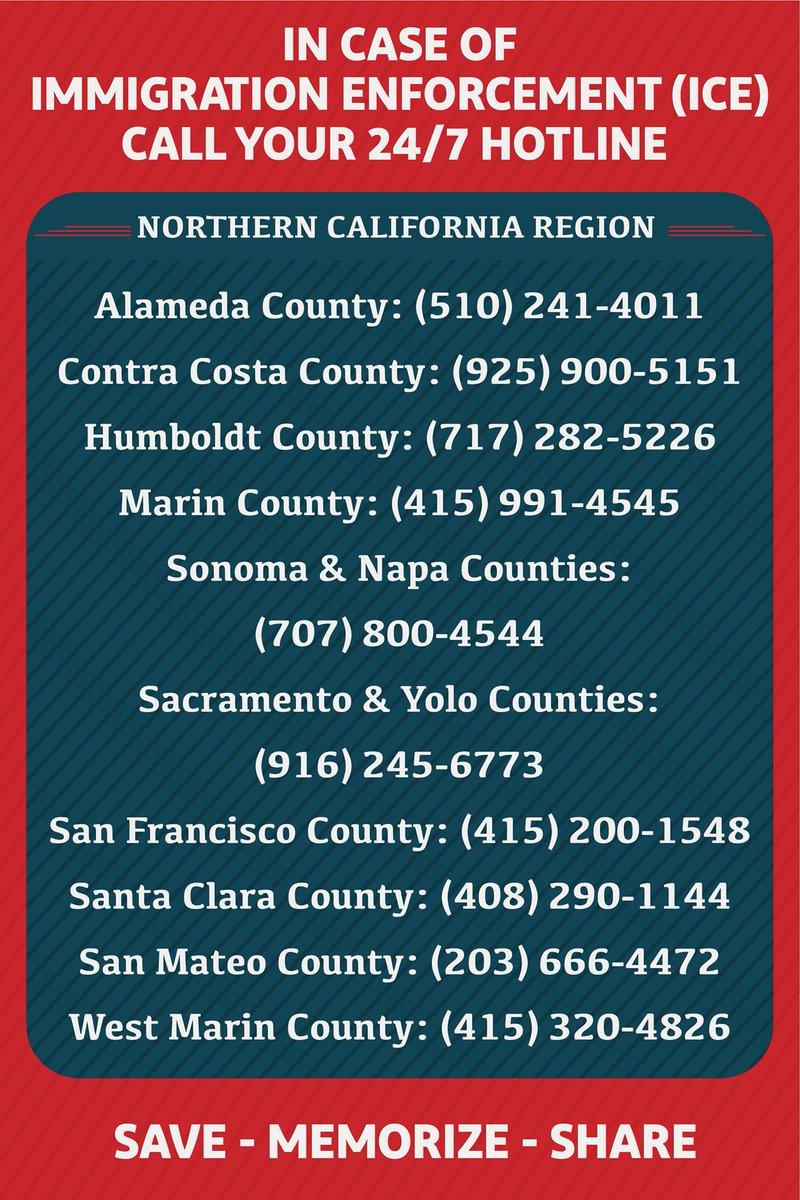 ICE RAID RESPONSE
The New York Times is reporting that Immigration and Customs Enforcement will begin deportation raids targeting 2,000 people, plus "collateral" deportations of people swept up during the raids. San Francisco is likely to be one of the 10 cities targeted. 
ACTIONS:
TONIGHT (Thursday, 7/11) Causa Justa :: Just Cause is organizing a rapid response protest outside ICE's offices starting at 5pm at 630 Sansome St in San Francisco. 
TOMORROW (Friday, 7/12) Lights for Liberty is organizing coordinated local vigils in cities across the country.
Oakland – A vigil will take place at 5PM in Frank Ogawa Plaza / Oscar Grant Plaza. Full list of vigils here. 
        San Francisco – Interfaith Prayer Vigil at 11:30am at 630 Sansome St in San Francisco. Religious leaders from the Interfaith                  Movement for Human Integrity, Bend the Arc Jewish Action, Tsuru for Solidarity, Japanese American Religious Federation, and            other community members are calling for the closing of all detention centers and release of all people to their families.
Palo Alto – The Coalition to Close the Concentration Camps – Bay Area is organizing a rally to demand that Palantir stop              collaborating with ICE Friday, July 12 at 4:30pm at 555 High St, Palo Alto. More info here.
HOTLINES:
Here are local hotline numbers taken from a list compiled by the National Network for Immigrant and Refugee Rights for reporting ICE activity. They're requesting eyewitness or confirmed reports only, not rumours. 
State Hotline

: 1-844-878-7801 (Trust Act Hotline)

Alameda County

: 1-510-241-4011 (Alameda County Immigration Legal and Education Partnership for the ICE Activity Hotline. Call for rapid response and legal services.)

Central Valley Rapid Response Network (Fresno, San Joaquin, Merced & Kern Counties): 1-559-206-0151
Contra Costa County Rapid Response Network: 1-925-900-5151 
Humboldt County Rapid Response Network: 1-707-282-5226
Los Angeles

: 1-888-624-4752 (

Coalicion for Humane immigration of Los Angeles

)

Marin County

Rapid Response Network: 1-415-991-4545

North Bay

Rapid Response Network (

Sonoma & Napa Counties

): 1-707-800-4544

Northern & Central California

SIREN

(Services, Immigration Rights & Education Network). "Stay informed about upcoming actions and policy updates by joining SIREN's Action Rapid Response Network. Community Members text SIREN to: 1-201-468-6088 Allies text SIRE to: 1-918-609-4480

Monterey County

Rapid Response Network: 1-831-643-5225

Sacramento

: 1-916-245-6773 (24 hour hotline for residents to call if witness to federal immigration agents conducting enforcement sweeps)

San Diego Rapid Response Network:

(Hotline) 1-619-536-0823

San Francisco

: 1-415-200-1548 (San Francisco Immigrant Legal and Education Network Rapid Response Network)

Santa Clara County

Rapid Response Network: 1-408-290-1144

Santa Cruz County

Rapid Response: 1-831-239-4289

SIREN (Services, Immigrant Rights, and Education Network) Rapid Response Network: Text "SIREN" at 1-201-468-6088

PaseLaVoz

: get alerts and report on ICE activity thankd to a FREE text alert program. PaseLaVoz is automatically activated with a simple and short call or text to : 1-415-715-9990